1984—the band o' death begins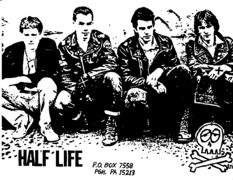 The Band o' Death (the code name for Half Life) was formed in late 1983 by Mike LaVella and Jeff Lamm after the break-up of Real Enemy, the first hardcore band in Pittsburgh. Realizing that the scene had just started, and should continue, the two set out to continue, not knowing what they would unleash....
The first gig was at the New Group Theatre, May 5th 1984 and consisted of:
Jeff Lamm-vocals
Mike LaVella-bass
Mike Michalski-guitar
Blair Powell-drums
This was somewhat of a landmark show, as it combined The Five-Pittsburgh's established alternative band with a much younger band and it's (small) crowd. 1983 (the year hardcore happened in the 'burgh) saw very few all-ages gigs, but this was to be the year that Pittsburgh hardcore started it's lift-off.