1985— the noise becomes music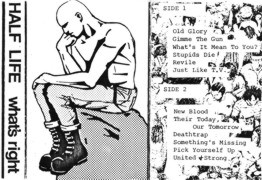 In 1985, Blair left, Mike and Jeff got Rick and Ron on guitar and drums, respectively, giving us:
Jeff Lamm-vocals
Mike LaVella-bass
Mike Michalski-guitar
Rick Dowdle-Guitar
Ron Volpe-Drums
This crew produced some pretty decent material, and as Rick was a big fan of the heavy British bands, took a step away from the Flipper-esque proto-noise found in the first set.
All ages gigs became common with our general refusal to play bar shows and a desire to play for the kids who formed the majority of the crowd.
At this point the What's Right cassette was recorded. Steve Heineman (my bandmate from Real Enemy and White Wreckage) and I were involved with the recording, and I play on several of the songs. Mike Michalski left, and I joined at that time. That put the line up at:
Jeff Lamm-vocals
Mike LaVella-bass
Vinny Curtis-guitar
Rick Dowdle-guitar
Ron Volpe-drums
This version played some pretty powerful shows, but all was not well. There are sayings about bands with 5 people in them, and they're all true. It's always 3 vs. 2. It's dynamic, but always 3 vs. 2. And so in late 1985 we ended up with 3....